Providing Care to the World at a Moment's Notice
With more than 39,000 employees, Global Medical Response teams deliver compassionate, quality medical care, primarily in the areas of emergency and patient relocation services in the United States, including the District of Columbia and around the world. GMR was formed by combining the industry leaders in air, ground, managed medical transportation, and community, industrial/specialty and wildland fire services.




39,000
Clinicians and Support Personnel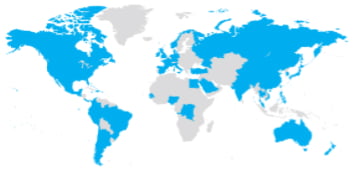 patient encounters last year
We performed a
critical intervention
every
10
minutes.
Each of our solutions have long histories of proudly serving the communities where we live: American Medical Response (AMR), Rural Metro Fire, Air Evac Lifeteam, REACH Air Medical Services, Med-Trans Corporation, AirMed International and Guardian Flight.
Combined, we completed 4.9 million patient transports last year, utilizing 8,600 ground vehicles, 158 fire vehicles, 375 rotor-wing aircraft and 132 fixed-wing aircraft. We are the largest medical transport company in the world, focusing on intimate and high-service solutions at a local level.